Panels
CPあC 2022 Panel Guide
Panels and Workshops give CPあC attendees the opportunity to share their passions and skills with their fellow con-goers. From interacting with your favorite anime characters to learning the tips and tricks on creating the perfect cosplay, we hope to have something for everyone with Panels at CPあC.
Filling Out The Application
Please read the entire preface to the panel application
Moderator Information

Please give the moderator´s name, email, and phone number
Moderators have to be 18 years of age by 2022 and will be required to present an ID validating their age at CPあC
Please list previous panel moderating experience with or outside of CPあC with panel/event names, dates, and conventions.

Event Details

Please give the Event Title as it would appear in the program guide
Event Description

Explain why your panel should be accepted
Please make it as concise as possible

Program Guide Event Description

This description will be shown in the program guide
MAX OF 150 CHARACTERS

Please give the total number of moderators/panelists

Scheduling Information

Setup Duration - How long do you need to set up the panel?
Event Duration - How long will the panel run?
Cleanup Duraion - How long do you need to clean up your panel?

Event Requirements

Room Safety Requirements (these are optional)

Supervision for children under the age of 12
No open food or drink allowed in the room during the event

Room Size Preference

Please round up when estimating
This is not a guarantee

Please state if your event can be photographed

Additional Information

Please identify any additional requests regarding your panel (e.g. attendance limit, seating arrangements, longer cleanup period)
Please list any accessibility requirements regarding the location of your panel
Please specify the days you will attend
Please give any other comments regarding your panel

Abiding by Convention Policies

If you fail to abide by the Convention Policies, you will not be able to hold your panel and will not be able to host panels at CPあC in the future
Keeping the Audience Engaged
Although CPあC is an event run by college students, we´d rather not have our panels run like college lectures. Interaction with your audience and keeping your audience engaged are key factors to running a successful and fun event. Here´s a few tips on how to keep your audience engaged.
Ask Questions

Gameshow & trivia questions

People love testing their knowledge – especially anime-lovers

Polls & Surveys

Can be used as an effective and engaging method to start a panel by gauging the room´s opinions on a certain topic
Especially useful when discussion between audience members and panelists follows

Discussion-based questions

Hypothetical or open ended questions can be used to generate audience participation
Instead of audiences just listening, having them think allows them to be more engaged in the current conversation

Give out prizes

Candy and stickers make very cheap and fun prizes
People are more willing to participate if there are prizes

Bring people into the discussion

Instead of rambling on for 50 minutes straight, bring audience members into the discussion by posing questions or creating hypothetical scenarios
Even though it is your panel, the audience wants to be entertained, so by cooperating with them, everyone can have a better panel experience
Great Panel Ideas
Debates
Trivia
Workshops (How to do something)
Talk shows / Podcasts
Not Great Panel Ideas
Q&A
18+ Panels
Good luck and hope to see you there!
---
Panel Applications
Second wave Panel applications for CPあC 2022 are now open! Click here to sign up!
First Wave Application:
Opens: Friday, October 15th, 2021 at 5:00 PM EST
Closes: Friday, December 24th, 2021 at 11:59 PM EST
Second Wave Application:
Opens: Saturday, January 1st, 2022 2:00PM EST
Closes: Saturday, February 5th, 2022 11:59PM EST
Third Wave Application:
Opens: Saturday, February 12th, 2022 2:00PM EST
Closes: Saturday, March 19th, 2022 11:59 PM EST
Follow us on Social Media for updates!
Any questions can be directed to programming@castlepointanime.com.
---
Fan-hosted Panels
With a wide diverse array panels ranging from informational to comedic, CPあC's Fan-Hosted Panels have something for everyone, from learning about the historical significance of certain animes or laughing along with skits!
Game Shows & Trivia Panels
Test your anime expertise at the various Game Show & Trivia panels at CPあC! Whether it's guessing songs or participating in other anime games, everyone has a chance to shine!
Workshop Panels
Want to know how to improve your cosplay? Ever wondered how to start ita-bagging? Find out answers to these questions and more by attending some workshop panels at CPあC!
Featured Panels
Come and join panels hosted by people involved in the anime industry. You may recognize them from online or from around the tri-state area.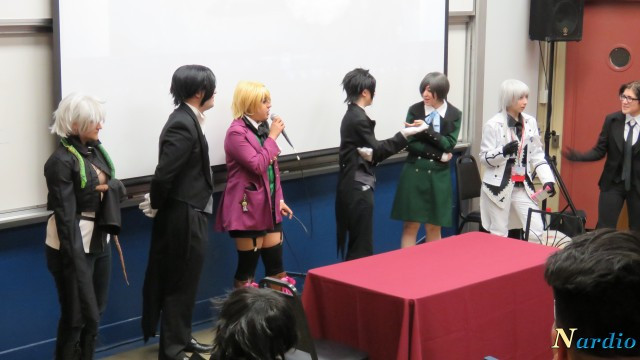 ---